Other Opportunities & Services To…
Promote & Grow Your Business
Unlike some people, I really don't think all the "old school" more traditional ways of marketing and promoting business are totally dead. They just need a slightly different approach.
What I do believe though is that any business who doesn't have an effective online presence and strategy is making it much harder for themselves to reach their potential – and of course their customers! It's about enhancing, not totally eliminating, your current offline marketing and customer attraction strategies.
I work with businesses to make sure your online presence and strategy fits and works seamlessly within your business – making sure it consistently delivers real and measurable results and positive growth.
Search Engine Optimisation
Search Engine Optimisation (or SEO) is what goes on "behind the scenes" of your website to try and make it stand out to Google when they are deciding which websites to display in their visitors search engine results.
Although it's no longer the be all and end all that some people may have you believe, being on the first page of the search engine will obviously be very beneficial to any business.
There are some relatively simple things that any business can do to increase the likelihood of appearing above your competitors whenever your customer is looking for your business in their area.
If being highly placed and featured within Google is something you recognise to be important for your business then please do get in touch to find out how this can be achieved.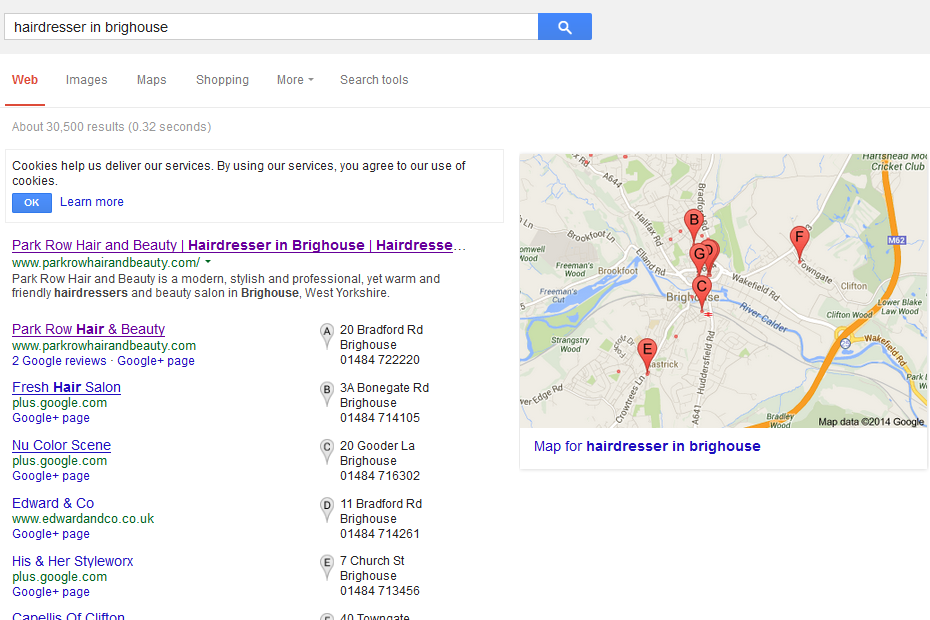 Having a video about your business on your website will make you stand out head and shoulders above all other similar businesses. You will leave a much stronger impression on your customer because hardly anyone else is doing it yet.
There are many different forms a video can take and it certainly doesn't have to involve you talking face to face to the camera.
To the left hand side is a fairly basic, but very effective slide-show video I created for The DAIO project.
Of course you can use moving video footage too – and the VERY best video you can possibly have on your website is a collection of "live" testimonial clips from existing happy and satisfied customers.
People rarely 'buy blind' anymore… we don't have to because the internet makes it so quick and easy to research and review a business before making a decision.
Review sites now feature on the first page of Google for the most popular search terms – and reviews are featured strongly within the prominently displayed Google My Business Pages listings. And quite remarkably a recent study showed 79% Of Consumers Trust Online Reviews As Much As Personal Recommendations
So if you have lots of good reviews, you'll get the double benefit of lots more customers and quite possibly Google treating you more favourably in it's search results. If your business only shows a few bad or even average reviews then this will be seriously affecting your business.
Being aware of and managing your online reputation is now absolutely crucial. If you have either too many bad reviews that are affecting your business, or want to know how to (legitimately) encourage and grow more positive ones, then please do get in touch.
This is probably THE most exciting and powerful aspect about the potential of the internet. I generally hate using cliches, but it really does "level the playing field" between large and smaller businesses.
Now, every business is able to start to build a connection and rapport with prospects BEFORE they "buy" – and develop an even stronger bond and relationship with existing customers. It is referred to as the "humanisation" of business.
Social Media, which we've briefly touched upon, is one way to do this – but there are many other ways too. This includes; blogs, emails, newsletters (see right), SMS messaging, coupons, targeted offers, special events, loyalty schemes, etc.
As with Social Media, you definitely DON'T need to be doing them all, just the ones which most suit your business. Some of these strategies work much better with certain types of businesses than others so if you would like to know more about what might work best for you then please do get in touch.
Ads, Flyers & Other Promotional Material
As I mentioned at the beginning of this page, I don't believe that the old school, traditional ways of promoting your business are no longer valid. Far from it.
Offline promotional materials such as flyers and magazine ads can be an excellent way of driving visitors to your website – and then converting them to customers. They work really well hand in hand.
A landscape gardening client of mine gets an average of 8 – 9 enquiries a month directly through his website (plus phone calls too) and his only form of advertising is a quarter page advert in a local Ads Magazine. Of course not all of them convert to business, but this is more than enough to keep him busy as some projects may involve a couple of weeks or more work.
To find out how Ads and Flyers could work for your business, and for help in creating them too if required, then you know what to do… Click Here To Get in Touch Now!